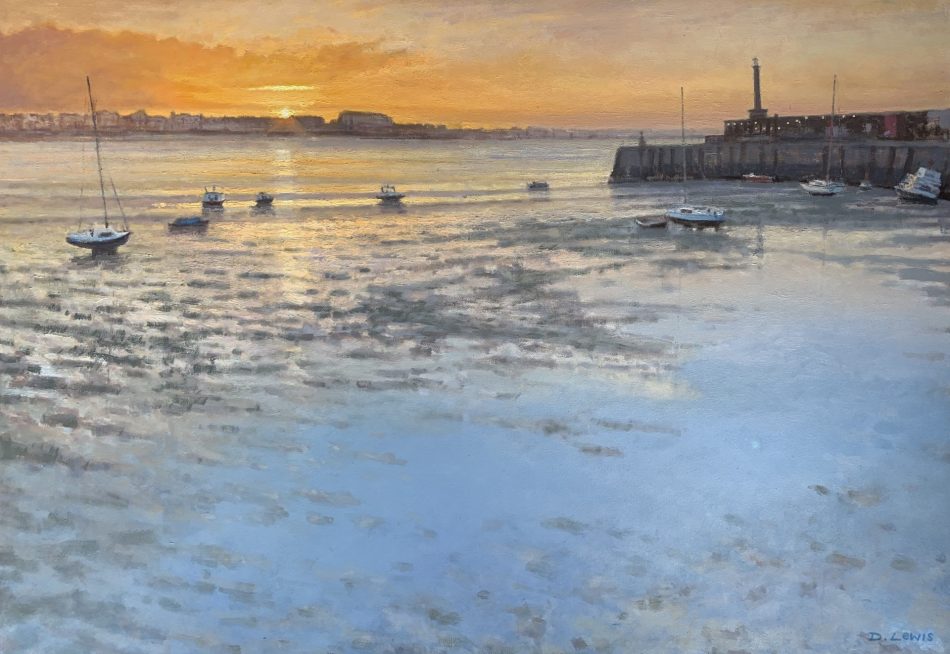 Darren Lewis – Artist Statement
Always difficult to put into words what I do, never wanting to be drawn into 'isms' or a style, I am essentially a painter from Margate, and a painter of Margate on the south east coast of England. Over recent years my main focus has been to capture the varied light, atmosphere and climate of Thanet's coastlines but more recently, a further resolution on depicting Margate Harbour and its surrounding areas has become a growing obsession. I want my paintings to reflect the beauty and serenity of Margate. I want to capture a specific atmosphere of time and place created by observation in depicting the varied light and shadow surrounding Margate harbour.
As a painter predominately of coastlines, I am drawn to the light and colour of the sky, the cloud formations, the shimmer of light on water, the mood and sense of place. Margate Harbour for the moment gives sufficient need to convey my senses in purely visual terms using paint. I paint the things I see around me, the things I know and feel comfortable with.
My work is generally oil on canvas or board but I sometimes experiment with mixed media exploring the unknown combinations of varied materials. My paintings vary in size from small through to large scale depending on what I feel is needed and the desire to challenge myself. Each painting, regardless of size presents a wide range of questions. Colour is important, relating subtle and intense colour relationships. A sense of place or location is fundamental to my working. It's the coastlines I'm interested in, where sky meets sea and sea meets sand.
My paintings are available to purchase. I also accept commissions and happy to discuss any proposed ideas.